NECRO 21 is an independent record label focusing on horror-punk and related genres.  The label was founded by DISFUNCTION (horrorpunks in 21) in Orlando, FL to put out the first NECRO 21 release, 'Monsters from a Different World / Creatures of a Different Breed'.  We have since released DISFUNCTION's newest album, 'Necro-Viral Frenzy in 21 Night'.  DISFUNCTION's guitarist, The Lance, also writes/records/fronts WOLF'S ENDEAVOR.
http://www.horrorpunksin21.com     http://www.necro21.com/wolfsendeavor
Hailing from sunny Orlando, DISFUNCTION is a horror-punk and necro-viral thrash four-piece that has recently opened for The Misfits, Blitzkid, and Juicehead. They have been haunting the regional hardcore punk circuit with their energetic and interactive live shows for the past few years, and are now releasing their 11-song album, 'Monsters from a Different World … Creatures of a Different Breed' as the first release on their NECRO 21 label.
Initially morphing from a sponsored skateboarding team into a rudimentary hardcore punk band, DISFUNCTION went through several lineup changes and a slew of informal early demos before vocalist Josh and bassist Seth teamed up with percussionist prodigy Tiffany on drums as a minimalist power trio. Their horror themes and image already firmly in place, DISFUNCTION would soon find their complete sound with the addition of thrasher The Lance on guitar in late 2009 during the week of The Misfits' yearly Orlando show. One short year later, DISFUNCTION would be sharing the stage with their horror-punk heroes and playing in front of a very receptive 800+ crowd.
DISFUNCTION is not a dime-a-dozen Misfits tribute band, but the progenitors of their own sub-genre they dub "Necro-Viral Thrash". While drawing from hardcore punk pioneers such as Bad Brains, DRI, and The Germs, DISFUNCTION has worked to add their own original mark to the horror-punk genre. Thrashy riffs with distorted bass and quick fills are peppered with growls, shrieks, and call/response vocals. Most songs are topped off with blazing solos or intricate guitar leads. Their explosive live performances have been known to stun newcomers as much as they engage longtime fans in sweaty spectacle. With the release of 'Monsters/Creatures', these "Horrorpunks in a 21st Century DISFUNCTION" have shown they learned to capture the spirit of their live shows on an album like lightning in a bottle.
A year and a half after solidifying the current lineup, DISFUNCTION is hard at work on their follow-up, which is anticipated to build on the direction of their recent release. Fans can keep up to date with live shows, videos, merchandise, and new releases at 
www.Horrorpunksin21.com
 .
The Necro21 label releases thirteen new horror and sci-fi punk tracks of various styles with the Wolf's Endeavor album, 'Fahrenheit 451′. The wider range of sounds includes audible influences from GBH, DRI, and the Dead Kennedys to Bad Religion and the Dead Milkmen. As on the previous self-titled release, many of the songs are tributes to popular horror and sci-fi stories made famous in books and films. Wolf's Endeavor is
a side project of Orlando band Disfunction's guitarist, The Lance, who wrote all the songs and played all the instruments on this album. Most of these songs still contain the raging riffs and melodic solos for which he is recognized. Disfunction has opened for well-known horror punks The Misfits and Blitzkid, and the band is popular in the regional Florida punk scene. While Disfunction's hardcore skate-punk influenced "necro-viral thrash" sound tends to stay within fairly well-defined boundaries, this time Wolf's Endeavor sought to express a love of horror and sci-fi to Disfunction's fans through a variety of musical styles that all fit within the expanded genre of horror-punk. Fangs for your support!
Tracklist:
1. Fahrenheit 451
2. Invisible
3. The Modern Prometheus
4. Fangs for your support
5. We Rule The Night
6. Moon
7. A Bullet's Defense
8. Subtropical Dreams
9. Headless
10. Night of the Living
11. The Hidebehind
12. Ray Gun
13. Witch Burning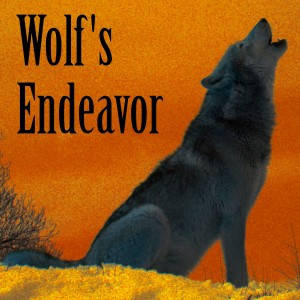 The Necro21 label releases seven horror-punk tracks from Wolf's Endeavor, the side project of The Lance, Disfunction's guitarist. Orlando-based Disfunction has opened for the current Misfits lineup featuring Jerry Only and Dez Cadena, as well as fellow horror-punks Blitzkid. The songs on this release are in a classic style reminiscent of The Misfits, whereas Disfunction's "necro-viral thrash" style tends to run closer to the sounds of Bad Brains, The Germs, and DRI. The Wolf's Endeavor 7-song self-titled release boasts several high-energy sonic tributes to horror, sci-fi, and action movies including STAR WARS, Terminator 2, First Blood, Children of the Corn, A Nightmare on Elm Street, and others. The vocal style here more resembles that of Glenn Danzig and Michale Graves than on the follow-up release, 'Fahrenheit 451′, which is also more stylistically diverse.
Track listing:
1. Thundrous Applause
2. No Fate
3. First Blood
4. Outlanders
5. Hysterical
6. Planet of the Apes
7. Boiler Room